Maneki Neko Soap
a Lucky Cat for good fortune
Maneki neko, the popular beckoning cat, beckons for your good fortunne. Tales of its origin conflict, the two most likely ones are these. One tells of impoverished shopkeeper who shared his last bowl of rice with a hungry stray cat, who then beckoned in many customers. The other tells of a daimyo (lord) beckoned to the safety of a temple by the temple cat, and away from a bolt of lightening in a violent storm. In either case, the cat brought great fortune. For your good fortune, these soap cats will guarantee a clean start to your day.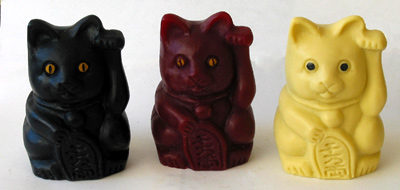 Each 8 oz cat, individually wrapped is avalaible in three fragrances: Sandalwood, Oriental spice incense, and Musk
Click on the picture for a close up view (use your browser's 'back' button to return to this page).
Lucky Cat

sandalwood scented

Net weight 8 oz.

CAT-S
CATHD-S
Lucky Cat

oriental spice scented

Net weight 8 oz.

CAT-O
Lucky Cat

musk scented

Net weight 8 oz.

CAT-M
Back to Soaps